Waterproof Flooring in Springfield, IL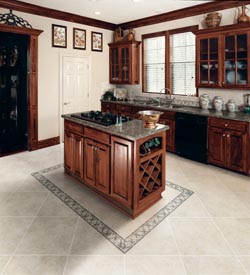 Update the look and functionality of your home with Flooring America. We offer a wide selection of waterproof flooring in Springfield, IL. At our showroom, you will find everything you need to turn your remodeling ideas into a reality. From our extensive product catalog to our professional installation, our team is here to make sure your flooring dream becomes a reality.
You deserve flooring that will complement your interior design perfectly. To that end, we have made it easier to find the right products that will meet your needs. We've teamed up with the leading manufacturers to offer a versatile selection of waterproof floors, which includes luxury vinyl planks and carpeting. Hands down, we make re-flooring a rewarding experience.
Waterproof Flooring is Sensible Investment
Waterproof flooring has grown to become a popular choice among homeowners. This is due to the fact that waterproof flooring is versatile, strong, and easy to maintain. True to its namesake, this flooring is specially manufactured to stand up against daily wear and tear. The surfaces of water-resistant floors are meant to repel liquid, making it highly stain resistant. This makes cleaning quick and simple, which allows homeowners to save time and energy for more important things.
There is a flooring option for any room type, too. Water-resistant vinyl flooring, for instance, has a solid surface. Its strong composition allows it to absorb scuffs, scrapes, and impacts. As a result, vinyl flooring has become a good addition to high-traffic rooms, which include the kitchen, bathroom, hallways, and more.
With waterproof luxury vinyl planks, there is no need to make compromises between form and function. This flooring option is available in the appearance of different materials, including ceramic and solid hardwood. With so many styles and designs of waterproof floors to choose from, your interior design options are limited only by your imagination.
If your common areas or bedrooms call for a comfortable and welcoming ambiance, we recommend water-resistant carpet. This flooring option utilizes special dyes and fibers to create a strong surface that repels liquid. Many spills on this carpeting, including pet accidents, can be cleaned easily. We offer waterproof carpeting in a variety of colors, designs, and textures.


Professional Installation Services Available
At our showroom, we're committed to making your remodeling project a success. To that end, we are proud to offer professional water-resistant flooring installation services. We do things right so that your flooring will look great and retain its strength.
Our professional installers are well-trained and thoroughly experienced in all types of re-flooring projects. Whether your project involves a single room or your entire home, our team will take every step to ensure your installation is a success.
Contact us today to learn more about our quality products, trusted brands, and installation services. We proudly serve Springfield, IL, and the surrounding areas.

Contact us to learn more about our waterproof floors. We serve Springfield, IL, and surrounding areas.