Tile Flooring in Springfield, IL
Give your home a fresh, new look and feel by investing in tile flooring. At Flooring America of Springfield, you have everything you need to transform your spaces. As a leading provider of high-end floors in Springfield, Illinois, we offer a wide range of ceramic, porcelain, and stone tile options. These tiles will enhance the appeal and worth of your property. With our diverse selection, friendly team, and personalized approach to helping you, your remodeling project will be a simple and worthwhile experience.
Tile flooring is chic, adaptable, and durable. Whether your home design plans involve a modern look or a classic ambiance, we have flooring products that will meet your goals. We have partnered with well-known brands, including Floorcraft and Mohawk, to offer a great selection of ceramic, porcelain, and stone tile flooring. Your options are limitless when you can choose from different textures, styles, designs, and colors to create a space that is right for you and your home. Explore our full list of select brands, including tile backsplashes and floor coverings by:
Daltile

Emser Tile

Mohawk

Happy Floors

Marazzi

American Olean

Shaw Floors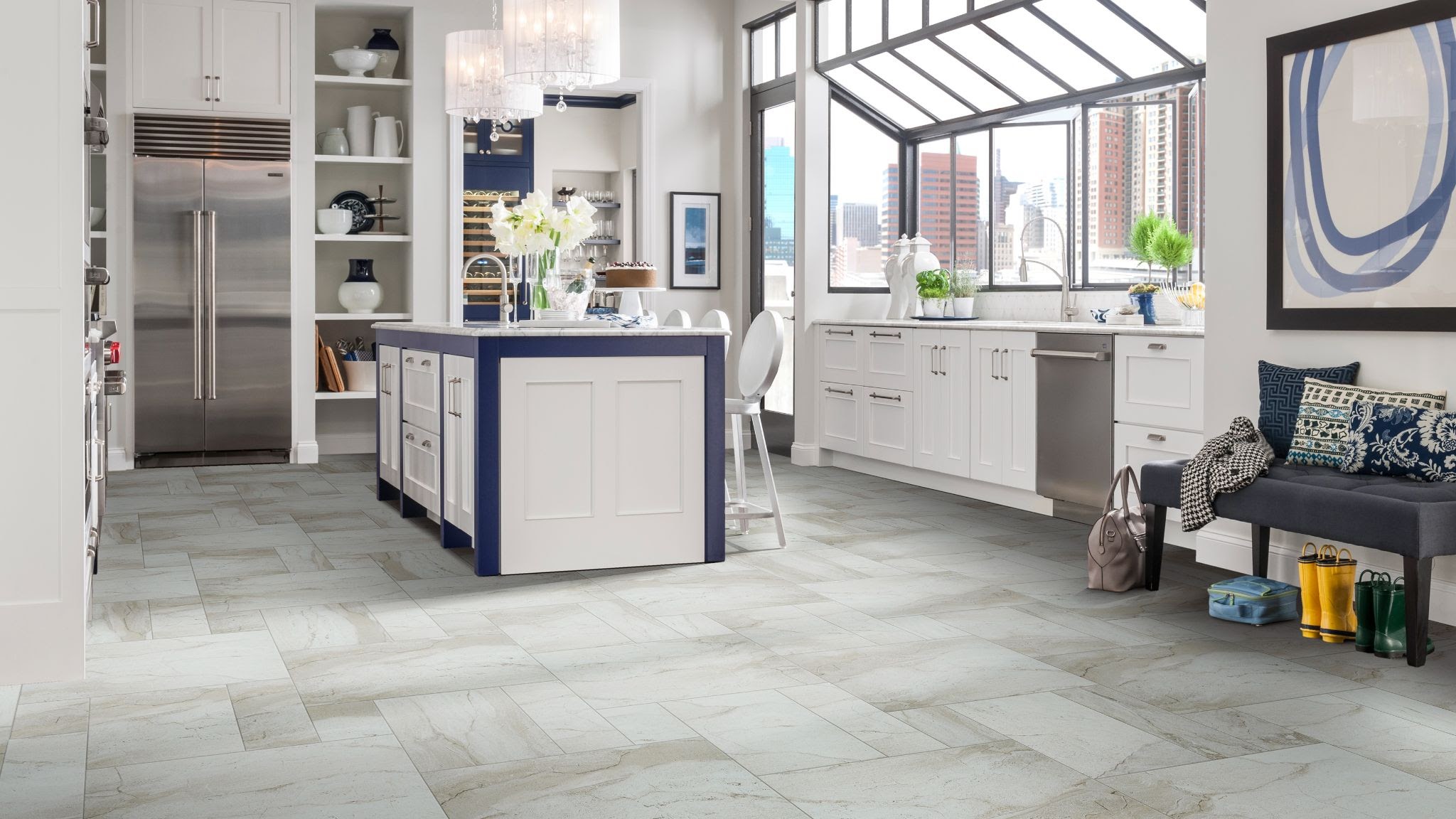 The Benefits of Tile
Our showroom has a wide range of products and materials to ensure that your home design project is one of a kind and unique to you. Tile flooring is versatile and allows you to be creative in your design plans. It can even be used beyond just your floors - use it as a backsplash in your kitchen!

Strength and beauty aren't the only qualities tile possesses. When you install tile floors in your home, you're not just upgrading the look of your home, but you're also making it healthier. Tile is well-known for its ability to improve and preserve indoor air quality. The combined characteristics of tile make it an excellent choice for anyone that wants beautifully designed, hygienic floors that are easy to clean and maintain. Our knowledgeable team is prepared to answer any questions you have about our different tile styles.
Exploring the Different Types of Tile
Our flooring experts can help you select the right tile for your home and can go in-depth on each tile's benefits and features. We carry a wide selection of tile patterns, materials, and designs:
Ceramic
Ceramic tiles are made from clay that has been permanently hardened by fire in a kiln, followed by a cooling period. Ceramic can be glazed-coated once it has cooled or it can be left unglazed. It is the ideal style that allows you to create the eye-catching floors or backsplash that you've always desired by appearing in a variety of forms, sizes, and colors.
Porcelain
Like ceramic, porcelain tiles are also made from clay, but they are kiln-fired longer. This results in a denser finished tile that is just as brilliant as its ceramic counterpart. Porcelain tiles can be used both indoors and outdoors, which makes this product so adaptable.
Stone
If you are looking for a more natural or rustic style for your home, check out our selection of stone tiles. Travertine, slate, granite, and marble are just a few of the raw materials used to make stone tile. Due to its natural strength, stone tile is usually stronger than ceramic and porcelain tiles, and it can add a luxurious feel to any room.
Wood-Look Tile Fits Any Space
While hardwood flooring is a beautiful addition to any home, it is important to remember that it is not the right material for every part of a home. Areas that experience more moisture and humidity such as bathrooms need a durable material that will not swell or warp. Wood-look tile is water-resistant so it will give you the protection you need and the appeal you want. With its wood plank style, wood-look tile is available in the appearance of well-known wood species such as mahogany, pine, oak, and many more. With its solid surface, wood-look tile repels dirt, dust, water, and other stains. Cleanup and maintenance of wood-look tile are simple and easy, letting you save time for what matters most.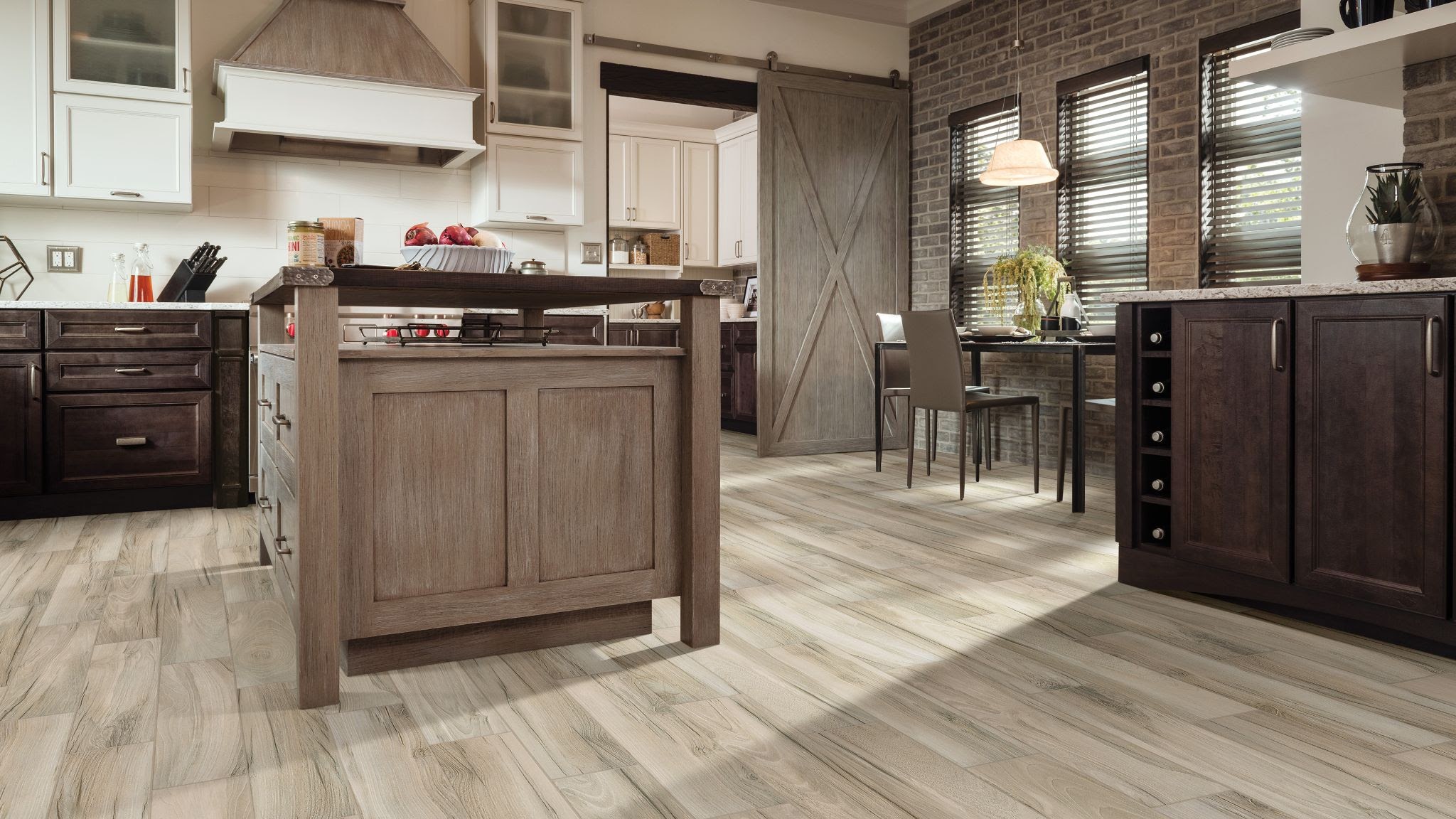 Keeping Your New Tile Spotless
When you choose tile flooring for your home, you are giving your home the promise of a flooring type that is scratch, heat, stain, crack, and water-resistant. As one of the strongest flooring types, your tile can withstand heavy foot traffic and use for years without showing signs of visible wear. With proper grouting, tile will block out any moisture that could damage subfloors or cause mold.
Families with children and pets will marvel at how easy tile is to clean and maintain. Cleanup should be done weekly with a wet mop as well as regular sweeping or vacuuming. For a heavy-duty keep, a strong solution all-purpose cleaner can be used on glazed tiles, while unglazed tiles can be cleaned with water, paste, and scouring powder. We always recommend consulting your new tile flooring's warranty before using or purchasing any cleaners with harsh chemicals.
Tile Flooring Installation by Professionals
After discussing your options and choosing a tile that meets your style and budget, get tile flooring installed by our team of skilled professionals. We make sure your new beautiful flooring is level and straight, properly sealed for moisture resistance, and structurally sound. With proper installation by our team, your new floors are sure to look good and function great for years to come.
When you trust us with your flooring installation, our promise to you is to install a long-lasting tile floor whose beauty can withstand the test of time. Trust our experts to use the best care and installation methods. All of our products are covered by industry-leading warranties, including our Ultimate Confidence Guarantee.


Contact us or visit us in Springfield, IL, to discover more about our tile selection. We proudly serve customers throughout Springfield and the surrounding communities.