The Place to Go for Luxury Vinyl Tile in Springfield, IL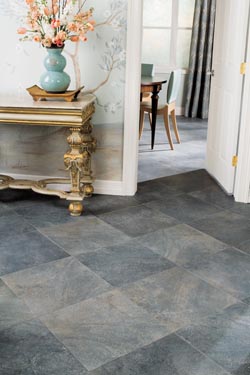 Many people love the look of stone, porcelain or ceramic tile and hardwood but don't love the price tag and necessary upkeep. Fortunately, there's an easy way to keep the beautiful appearance of tile without the associated costs: vinyl.
When you're shopping for luxury vinyl tile in Springfield, IL, Flooring America is the place to go. Visit our store today to browse our showroom's vast selection of vinyl surfaces and find the ideal style for your interior design goals.


What Makes Vinyl Special
Thanks to modern manufacturing innovations, vinyl offers more value than ever before. First, there are nearly limitless design options, making it easy to install a floor that perfectly complements the rest of your room. Whether you prefer the look of classic hardwood or contemporary tile, there's a luxury vinyl tile floor for you. Best of all, while LVT looks just like natural stone or wood, it costs just a fraction of the price.
Vinyl is also popular thanks to its effortless durability. It is specially designed to withstand heavy foot traffic, not to mention it is water and stain resistant. You won't have to invest much time or effort into keeping it clean either. All luxury vinyl products need is some routine sweeping or vacuuming, as well as occasional mopping, to maintain their great looks.
Homeowners also like how soft vinyl feels underfoot compared to other hard surface materials. If you spend a lot of time standing in the kitchen while you cook, you'll be glad you choose luxury vinyl tiles. Likewise, LVT doesn't get cold during the winter like natural stone does, so you never have to worry about frigid feet. Learn more about these and other benefits by talking to our flooring showroom staff today.


Professional Installation for Picture Perfect Results
Make the most of your flooring investment by hiring our professional installers. DIY flooring installation can be risky; for example, amateur efforts may void the product warranty. Likewise, the final result may not be what you envisioned.
Let our luxury vinyl tile floor installation team handle the hard work for you. We'll ensure that your new surface looks just as good in your home as it did in your showroom. Furthermore, we work quickly so that your room will be ready to show off to guests in no time at all. Talk to our staff today to get the details you need and request an estimate for your installation.



Contact us to learn more about our many vinyl surfaces and our installation services. We proudly serve clients from throughout Springfield, Illinois, and the neighboring communities.