Hardwood Flooring in Springfield, IL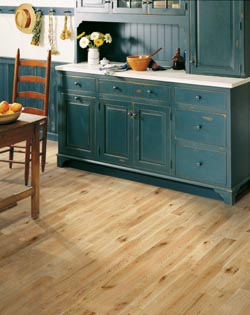 Looking to upgrade to hardwood flooring in Springfield, IL from Flooring America. Our expansive selection of hardwood flooring in Springfield, IL, adds a timeless air of sophistication to any room. Throughout its lifespan, hardwood can be refinished for an entirely new look and feel, extending the life of your floor. It enhances the appeal and value of your home and fits into any décor. Call our flooring specialists to guide you through the process from selection to installation.
The versatile style of solid hardwood flooring works perfectly with a range of design plans. Our associates listen to your expectations and point you toward the floors that best fit your needs in appearance, performance, and price. Find the solid or engineered hardwood floors that work for your household when you visit our showroom.
Why Choose These Materials?
This type of floor covering sets the standard for leading-edge design and value. When you see the significant difference our hardwood flooring makes, you'll be satisfied with your choice. In addition to its beauty and richness, wood offers strength and durability. This is why countless homeowners have invested in it for centuries. Other advantages include:
Can be Refinished Instead of Replaced
Classic Appearance and High-End Look
Healthier Indoor Air Quality
Long Lifespan of 15+ Years
Resistant to Stains, Spills, Fading, and Scratches
Engineered hardwood is made of multiple layers of synthetic wood materials, and features a top layer of veneer. These products produce the look you love for less, maximizing your design budget. As part of a national retail flooring network, we capitalize on the buying power of multiple stores to save you even more. This broadens your design horizons to achieve the right fit for your home.
Professional Hardwood Flooring Installation
Choose our high-quality, affordable floors for straightforward installation from our experienced team of specialists. With professional work, your floor can last for generations. When the process is done incorrectly, however, it could result in preventable expenses. We do the job right the first time. Visit our showroom to start your design journey the right way.
Eliminate the guesswork involved in finding the hardwood that works best with your style and budget with a visit to Flooring America. We back all products and installations with our Ultimate Confidence Guarantee. Contact us if any issues arise, and we'll replace your floors with a similar product for 30 days after installation. We're here to help you create the interior experience you've always wanted. With the selection and value we offer every day, you can trust us as your source for stylish, durable, and budget-friendly flooring.

Contact us today for a free estimate on hardwood flooring that can transform the look and feel of your home. We proudly serve customers in Springfield, Illinois, and surrounding areas.